Training young professionals
First Lawyers has developed a program for young professionals. Intended for recently graduated lawyers, who are talented and do not want to immediately lock themselves into a career either for the legal profession or for the corporate legal position. At First Lawyers you don't have to choose right away.
We train versatile lawyers. Only after the first two years do you make a choice: do you develop further as a lawyer or do you use the acquired knowledge to further develop yourself as a specialist in the corporate legal function?
Whatever choice you make, the basic knowledge and experience you gain during the first two years make you special for companies.
After successfully completing the various phases of the application procedure, a final phase follows: you follow the four-day training in legal operations. It explains the basics of legal operations. An exam follows at the end of this training. If you pass this one and all other signals are still green, you will be offered a contract for the duration of two years.
During these two years you will follow the legal ops training. You carry out assignments for clients four days a week. The fifth day is for study. First Lawyers offers you space on Friday to attend, prepare and elaborate on lectures. You prepare yourself to continue studying in the evenings and weekends.
If you also successfully complete this training, it is time to think about the next step. Please note, it is not self-evident that the vocational training for lawyers is the next course. It is a real option to grow further in the legal ops profession and to take a different path from that of the legal profession.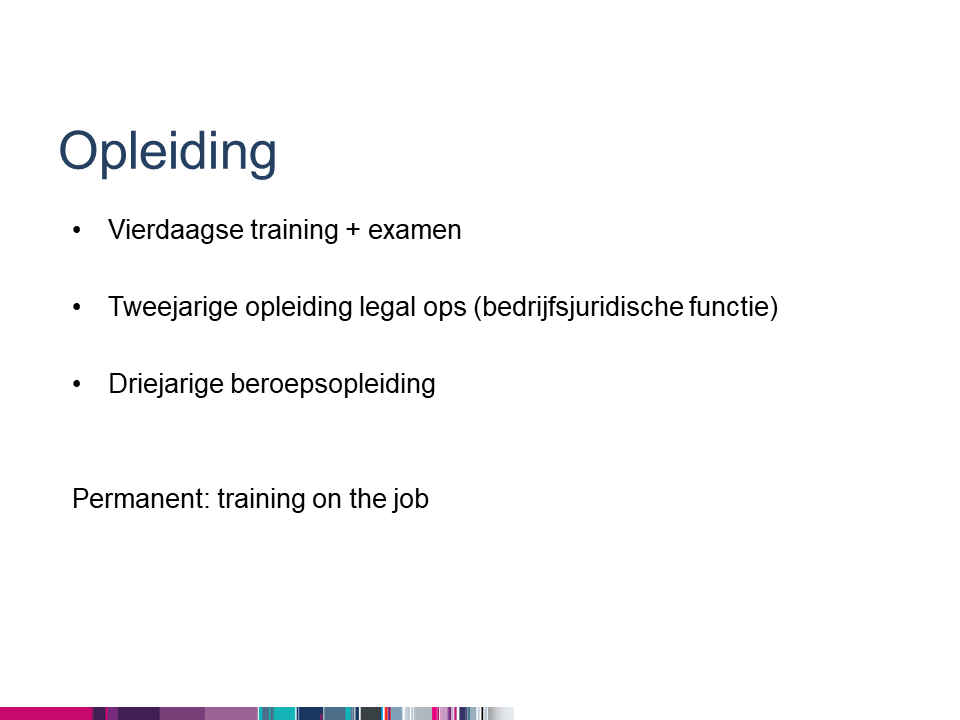 If you consciously choose to become a lawyer, First Lawyers also likes it and you meet all the conditions, then the path to professional training for lawyers is in principle open to you. Then too, First Lawyers offers you space to attend vocational training courses and take exams. Other study time is your own time.
Trainings are test moments for us. We are following you closely. Together we always check whether you have acquired sufficient qualifications to take the next step.