What does working at First Lawyers mean?
Being a legal professional at First Lawyers means having an academic degree and being a master of law, literally and figuratively. You have a broad interest and field of view and you have followed additional training in subjects such as business administration, business economics or business administration, or at least have an affinity with them. Study and work are the ideal combination for you for growth and development. You are:
Inquisitive and analytical
Critical and open to criticism
A go-getter
Proactive, solution-oriented and agile
Performance-oriented and intrinsically motivated
Passionate, positive and enthusiastic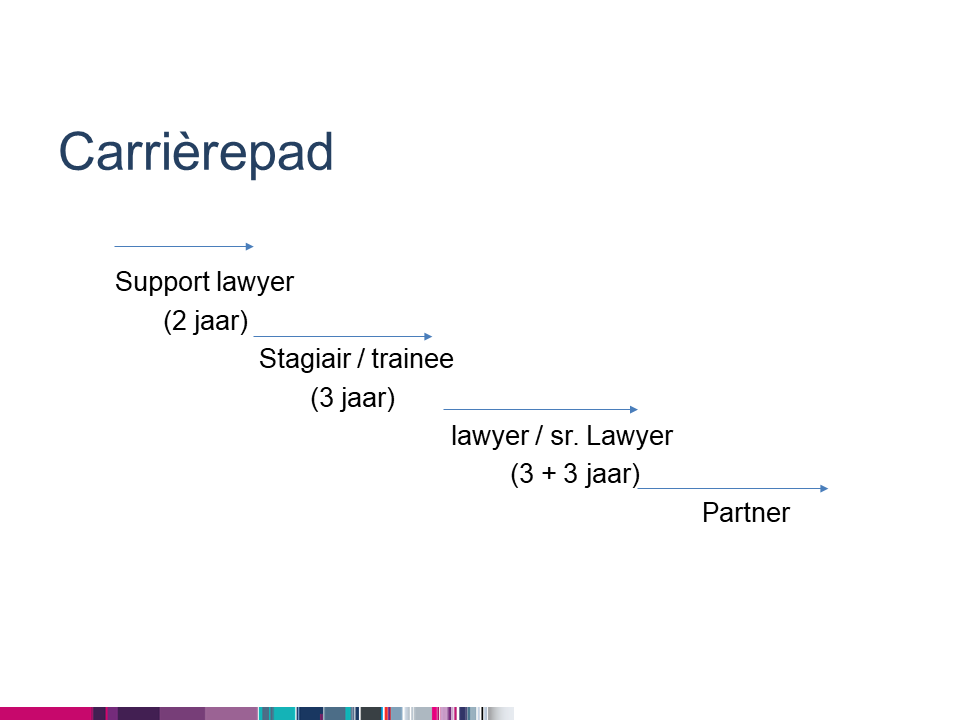 The career path explained
In principle, you start in the position of support lawyer. As a support lawyer you support more experienced legal professionals and lawyers. You learn the first tricks of the trade. In practice, this means that you support clients in the application of smart contracting and carry out assignments for clients who, for example, want to have their corporate legal function assessed and/or redesigned.
On Fridays and in the evenings you follow the two-year course in corporate law at the Duthler Academy. Lawyers from First Lawyers provide parts of this training as a teacher. After you have met all exam requirements and have successfully completed the training, we will take a look together and determine the next step in your career path.
Being a legal professional at First Lawyers does not automatically mean that you become a lawyer. After all, not every legal professional is in his power. Not every legal professional wants to be 'on' as a lawyer 24/7. That should suit your character. Legal professionals at First Lawyers can in principle also continue as legal operations advisor after their two-year legal operations training.
If First Lawyers has the space and is prepared to do it, you choose it, you meet all the conditions and are ready, you can in principle follow the professional training for lawyers. You have then worked as a support lawyer for two years. You got to know First Lawyers and First Lawyers got to know you well. We enter into a contract for three years, for the duration of the vocational training.
After the vocational training, we re-evaluate and discuss your next career step. Here too, it is not self-evident that your lawyer remains. This is only possible if you meet the requirements and have sufficiently demonstrated your growth potential. If you remain a lawyer, you can progress to become a senior lawyer. This process takes an average of six years. We expect that in those six years you will at least develop into a 'leader in your field' and that you independently serve several clients as person with ultimate responsibility. If you have shown in those six years that you can run your own sub-practice – with your own client portfolio that you have created yourself – then we are open to embarking on a partner trajectory.